De pollo o atún. Mezcla de lechugas, elote, tomate, zanahoria, mezclados con aderezo cremoso.
Chicken or tuna. Mixture of lettuce, corn, tomato, carrot, mixed with creamy dressing.
Preparada a base de anchoas, huevo, aceite de olivo y queso parmesano. 
Prepared with anchovies, egg, olive oil and parmesan cheese.
Cecina seca cocinada a la plancha, acompañada de aguacate, tomate, tornachiles y pepino. 
Dry beef jerky cooked on the grill, accompanied by avocado, tomato, tornachiles and cucumber.
Para dos personas. Rollitos de jamón con pepperoni, salchicha, mezcla de 3 quesos y aceitunas.
For two. Ham rolls with pepperoni, sausage, 3-cheese mix and olives.
Mineral o Natural de 475 ml
Mineral or Natural 475 ml
Mineral o Natural de 475 ml
Mineral or Natural 475 ml
JUGOS  Y LICUADOS
Juices and milk shakes
Jugo de naranja o tomate 295ml $35
Orage or tomato juice
Jugo de naranja grande 355ml $39
Large orange juice
Jugo de zanahoria 295ml $38
Carrot juice
Jugo verde 295ml $38
Green juice
Licuados 414ml $36
PAPAYA, MELÓN, PLÁTANO O FRESA
Papaya, melón, strawberry or banana milk shakes
PARA COMENZAR
Avena o cereal $40
Oatmeal  or corn flakes
Fruta de temporada $48
Acompañada de  yogurt, miel y granola
Fruit with yogurt, honey and grains
Hot cakes (3) $48
Pan cakes
Waffles $60
Preparados con fruta, crema batida y miel maple
With fruit, whipping cream and maple syrup
Orden de pan francés $62
Con un toque de canela
French toast with cinnamon
Orden de pan dulce (4) $35
Pastries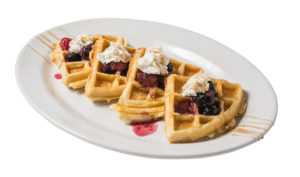 CLÁSICOS DE LA CASA
House classics
Huevos al gusto $68
Acompañado de frijoles refritos y rajas poblanas con crema
Eggs any style
Machaca con huevo $78
Acompañado de frijoles refritos y rajas poblanas con crema
Eggs with dried meat
Huevos rancheros $75
Fritos con salsa roja o verde
Fried eggs with mexican tomato sauce
Huevos divorciados               $75
Acompañados de frijoles refritos
Fried eggs with red and  green sauce
Huevos a caballo $115
Montados sobre jugoso filete de res
Fried eggs over a steak
Chilaquiles verdes con pollo $75
Fried slices tortilla with green sauce and chicken
Huevos motuleños $75 
Delicia clásica de la cocina yucateca
Eggs over fried tortillas, ham, vegetables and green sauce
Huevos benedictinos $80
En salsa blanca
Benedictines eggs with bechamenl sauce
Omelette $75
Jamón, queso o champiñón, acompañado de ensalada verde y papas adobadas
Ham, cheese or mushroms omelette
Omelette light (claras) $75 
Relleno de queso panela asado y espinacas
Egg whites omelette with fresh cheese and spinach
PAQUETES DE DESAYUNO
Breakfast Combos
Los Portales
Jugo o fruta | Chilaquiles verdes o rojos
CON QUESO $115 
CON  POLLO $115
Huevo al gusto (1pz) frijoles refritos | Café o té
Fruit or juice, red or green chilaquiles, 1 egg any style, coffee or tea
Vizcaya $110
Jugo o fruta | Huevos al gusto | Frijoles refritos y rajas poblanas con crema | Café o té
Fruit or juice, eggs any style, coffee or tea
Ejecutivo $70
Jugo o fruta | Pan tostado con mantequilla y mermelada | Café o té
Fruit or orange, toast with butter an marmalade, coffee or tea
Mexicanísimo $95
Jugo o fruta | Tamales (3) | Frijoles refritos | Café o té
Fruit or juice, pork tamales, coffee or tea
Norteño $115
Jugo o fruta| Machaca con huevo | Frijoles refritos y rajas poblanas con crema | Café o té
Fruit or juice, eggs with dried meat, coffee or tea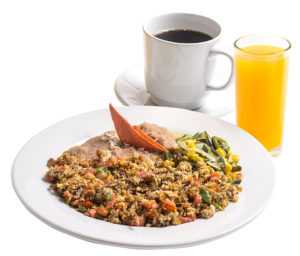 COCINA REGIONAL
Regional cuisine
Caldillo Durangueño $168 
Trocitos de filete con carne seca y rajas de chile pasado
Steak and regional green pepper stew
Chilaquiles rojos dulces $75
Con queso, pollo y la tradicional salsa roja dulce
Fried slices tortilla with sweet red sauce, cheese and chicken
Enmoladas almendradas (4) $88 
Rellenas de pollo y salseadas con mole almendrado
Tortilla filled with chicken and covered with almonds mole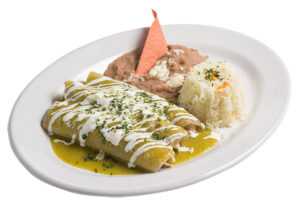 ANTOJITOS
Traditional mexican Snacks
Enchiladas verdes o rojas (3) $95
De queso o pollo 
Tortilla filled with chicken or cheese and coveredwith red or green sauce
Tacos Vizcaya (3) $120
Tacos de arrachera acompañados de guacamole
Arrachera steak tacos with guacamole
Puntas de filete al albañil       $145
Trocitos de filete con chile jalapeño, cebolla y tocino, acompañado de frijoles refritos
Tacos filled with beef steak, onion,  bacon and jalapeño pepper
Tamales (3) $68
Acompañados con frijoles refritos
Pork tamales
Tacos dorados de pollo (6) $75
Con guarnición de ensalada verde, crema y aguacate
Fried  tacos filled with chicken and covered with lettuce, sour cream and avocado
Burritos (3) $75
De rajas con crema, pollo  y frijoles
With green pepper, chicken and refried beans
Quesadillas norteñas (3) MAÍZ O HARINA $72
Rellenas de queso asadero  duranguense y carne seca
Wheat tortilla filled with  regional cheese and dried meat
SÁNDWICHES
Club sándwich $95
Pollo, jamón, queso, tocino acompañado de papas adobadas
With chicken, ham, cheese, bacon and french fries
Sándwich de jamón y queso  $68 
Acompañado de ensalada y papas adobadas
Ham and cheese sándwich
Sándwich crocante $78
Relleno de jamón y cubierto de salsa blanca gratinada
Traditional croque monsieur
Hamburguesa $95
Acompañada de papas adobadas
Sándwich francés $72 
Rebozado y relleno de jamón y queso
French toast ham sandwich
POSTRES
Desserts
Pay  fresco de limón $48
Lemon pie
Flan napolitano $45
Napolitan custard
Flan de nuez $45
Pecans custard
Brownie con frutos rojos $48
Fudge brownie with berries
BEBIDAS
Café americano 295 ml $25
Coffee
Café capuccino 295 ml $35
Café latte 295 ml $35
Café expresso 295 ml $30
Chocolate caliente 295ml $35
Hot chocolate
Leche con chocolate 295 ml $32
Chocolate milk
Té 295 ml $25
Tea

Refresco 355ml $25
Soda
Limonada Natural o Mineral  475 ml $32
Lemonade
Naranjada Natural o Mineral 475 ml $32
Orange lemonade
Agua fresca del día 475 ml $22
Natural fruits water
Agua embotellada 500 ml $16
Bottled water
ENTRADAS (PARA COMPARTIR)
Appetizers
Asadero fundido al mezcal $85
Con chorizo, rajas o champiñones
Melted cheese with mezcal, with mexican chorizo sausage, green pepper or mushrooms
Tacos para compartir (3) Tacos to share $72
De chilorio, puntas de filete y pollo en mole
Stuffed with our mexican stews
Cecina Norteña Grilled dried meat $250
Cecina seca cocinada a la plancha, acompañada aguacate, tomate, tornachiles y pepino
With avocado slices, tomato and cucumber
Platón de tostaditas (6) Little tostadas $75
Tostadas horneadas y crujientes cubiertas con nuestros deliciosos guisos
Crunchy tostadas, stuffed with our mexicans dishes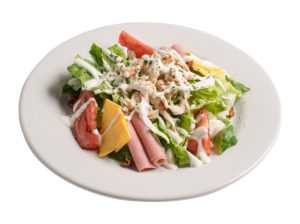 ENSALADAS Y COCTELES
Salads
Ensalada Los Portales Portales $85
Salad
DE POLLO  O ATÚN
Mezcla de lechugas, elote, tomate, zanahoria, mezclados con aderezo cremoso
Tuna or chicken,  blend of lettuces, tomato, sweet corn, carrot and ranch dressing
Ensalada César $95
Cesar Salad
Preparada a base de anchoas, huevo, aceite de olivo y queso parmesano
Prepared with anchovy, egg, olive oil and parmesan cheese
Ensalada del chef Chef Salad $90 
Tiras de jamón, queso, tocino y pollo servido en una base de lechuga con el aderezo de su preferencia
Ham strips, bacon, chesse and  chicken over a lettuce bed
Ensalada Verde Green salad $55
Mezcla de lechugas, tomate, pepino, y zanahoria con el aderezo de su preferencia
Blend of lettuces, cucumber, tomato, carrot and dressing
Coctel de camarón Shrimp cocktail  $110
Camarón  en su jugo acompañado con pico de gallo, aguacate y limón
Served with pico de gallo sauce, avocado,  ketchup and lemon
Coctel campechano $110
Con camarón, pulpo, pico de gallo y aguacate
Shrimp and octopus with pico de gallo sauce, avocado, ketchup and lemon
SOPAS Y PASTAS
Soup and pasta
Sopa de marinera $115
Sea food soup
Camarón, pescado y pulpo
Shrimps,  fish and octopus
Sopa del día $50
Soup of the day 
Pregunte por la especialidad de hoy
Ask for de speciality of the day
Sopa azteca $65
Aztec soup
Acompañada de chicharrón, aguacate y crema
Tomato soup,  fried tortilla slices, pork rin, avocado and sour cream
Caldo tlalpeño $68
Chicken soup
Caldo de pollo con arroz, chipotle, garbanzo, queso y aguacate
Served with rice, chipotle pepper, cheese and avocado
Spaguetti Alfredo $78
Con camarón, champiñones y salsa blanca al parmesano
With shrimps, mushrooms and bechamel sauce
Spaguetti a la bolognesa $90
Carne molida con salsa pomodoro
With traditional bolognesa sauce
Spaguetti pescador  $125
Seafood spaguetti
Con camarón, pulpo y pescado
Shrimps, octopus and fish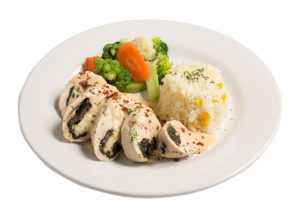 ANTOJITOS
Tacos Vizcaya (3) $120 
Tacos de arrachera acompañados de guacamole
Arrachera steak tacos with guacamole
Tacos dorados de pollo (6) $75
Acompañados con ensalada, tomate, aguacate y cebolla, bañados en crema
Fried  tacos stuffed with chicken and covered with lettuce, sour cream and avocado
Tamales (3) $68
Pork tamales
Acompañados de frijoles refritos con queso
Burritos  (3) $75
Surtidos de Chilorio, frijoles y tinga de pollo
Stuffed with green pepper, chicken and refried beans
Quesadillas norteñas (3) MAÍZ O HARINA $72
Rellenas de queso asadero duranguense y carne seca
Wheat tortilla  filled with  melted cheese and dried meat
AVES
Chicken
Fajitas de pollo Chicken fajitas $115
Tiras de pechuga a la plancha combinados con pimiento morrón, cebolla, tocino, acompañadas de arroz blanco
Cooked with morrón pepper, onion, bacon and guarnishing with rice
Pollo a la parrilla (220 grs) $115 
Grilled chicken breast
Acompañada de ensalada mil islas
With green salad
Pechuga  Conquistador $120
Rollo de pechuga relleno de espinaca y queso asadero, bañado en crema de elote
Chicken roll stuffed with spinach and regional cheese, covered with sweet corn cream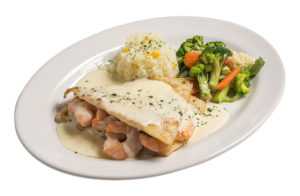 PESCADOS Y MARISCOS
Fish food
Filete de pescado empanizado  $115
Se acompaña de papas adobadas y ensalada verde
Breaded fish fillet
Filete los portales $150
Relleno de camarones flameados en vino blanco y cubierto de salsa blanca
Fish fillet stuffed with shrimps and covered with white wine sauce
Filete de pescado a la plancha (250 grs) $115
Con arroz blanco  y ensalada verde
Grilled fish fillet served with rice and green salad
CARNES
Meat
Arrachera asada (240 grs) $198
Acompañada de frijoles refritos y rajas con queso
Grilled arrachera served with refried beans and green pepper with sour cream
Puntas de filete al albañil $145
Trocitos de filete, acompañados de frijoles refritos con queso
Tacos stuffed with beef steak, onion, bacon and jalapeño pepper
Milanesa $175
Acompañada de papas  adobadas y ensalada verde
With wedge potatoes and green salad
Filete Gerónimo $145
Trocitos de filete con frijoles de la olla, tocino, cilantro todo bañado en salsa verde
Pieces of grilled steak, beans, bacon and covered with green sauce
Carne a la tampiqueña (190 grs) $190 
Filete o arrachera, acompañado de un taco de chilorio, guacamole, rajas con queso y frijoles refritos
Fillet or arrachera steak with guacamole, chili and pork taco, green pepper and refried beans
Filete a la cazuela (190 grs)  $185
Cocinado al vapor en su jugo con perejil, ajo y mantequilla
Steamed cooked with butter, garlic and parsley
Filete mignon  (190 grs) $185
Envuelto en tocino y cubierto con salsa española
Covered with gravy and mushrooms
*Va acompañado  con papa al horno y vegetales a la mantequilla | Se muestra peso promedio de las carnes en crudo
*It´s served with baked potato and  buttered vegetables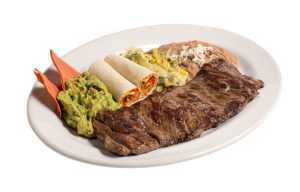 PLATILLOS REGIONALES
Regional cuisine
Pollo en mole almendrado $95
Acompañado de arroz y frijoles refritos
Chicken breast covered with almonds mole sauce
Caldillo durangueño $168
Trocitos de filete con rajas de chile pasado
Beef steak and regional green pepper stew
Enchiladas duranguenses $88
En salsa de guajillo dulce, rellenas de pollo y cubiertas de queso asadero
Tortillas stuffed with chicken and covered with sweet red sauce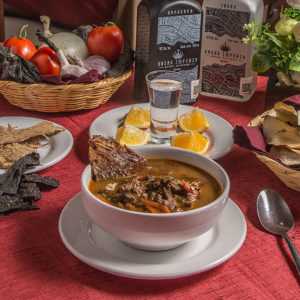 SÁNDWICHES
Club sándwich $95
Pollo, jamón, queso, tocino acompañado de papas adobadas
With chicken, ham, cheese, bacon and french fries
Sándwich de jamón y queso  $68 
Acompañado de ensalada y papas adobadas
Ham and cheese sándwich
Sándwich crocante $78
Relleno de jamón y cubierto de salsa blanca gratinada
Traditional croque monsieur
Hamburguesa $95
Acompañada de papas adobadas
Sándwich francés $72 
Rebozado y relleno de jamón y queso
French toast ham sandwich
POSTRES
Desserts
Pay  fresco de limón $48
Lemon pie
Flan napolitano $45
Napolitan custard
Flan de nuez $45
Pecans custard
Brownie con frutos rojos $48
Fudge brownie with berries
BEBIDAS
Café americano 295 ml $25
Coffee
Café capuccino 295 ml $35
Café latte 295 ml $35
Café expresso 295 ml $30
Chocolate caliente 295ml $35
Hot chocolate
Leche con chocolate 295 ml $32
Chocolate milk
Té 295 ml $25
Tea

Refresco 355ml $25
Soda
Limonada Natural o Mineral  475 ml $32
Lemonade
Naranjada Natural o Mineral 475 ml $32
Orange lemonade
Agua fresca del día 475 ml $22
Natural fruits water
Agua embotellada 500 ml $16
Bottled water